Der Tastenficker: An was ich mich so erinnern kann
Book Der Tastenficker: An was ich mich so erinnern kann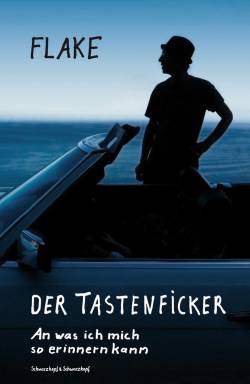 Mar 16, 2015
Author(s)

Christian "Flake" Lorenz

Language(s)

German

Editions

Schwarzkopf & Schwarzkopf

Pages

392

Dimensions

12,8 x 3,8 x 20 cm

ISBN

978-3942665339
Der Tastenficker: An was ich mich so erinnern kann (The key fucker: all I remember) is the first autobiography of Christian "Flake" Lorenz, released on March 16, 2015. The book is not divided into chapters, but is written as one unbroken story. Among the 392 pages, about a hundred photographs are present.
The first limited edition of the book was signed by Flake. On March 23, 2016, Flake released an audio version of the book, read by himself. Some passages of the book are omitted in this audio version.
Editor's presentation
Tastenficker (key fucker). was the name given to keyboard players in East Germany. Flake, as the keyboard player of Rammstein, is probably one of the most famous key fuckers. From autumn 2013, Rammstein took a long break. What am I going to do with all this time, Flake wondered. Guitarist Paul Landers advised him: Why don't you write a book?
And Flake did! In his nonchalant and self-derisive autobiography, he traces the path of a playful geek child who became the – still playful – keyboardist of the most famous German band in the world. In addition to numerous anecdotes about his former band Feeling B and Rammstein, there are digressions about music, cars and food as well as touching self-critical passages about alcohol abuse and social interaction.
Fulfilling your dreams before you're too old to enjoy them and not getting discouraged when things don't work out the way you want them to, that's how Flake's lifestyle could be summed up.
In fact, his autobiography reads a bit like an anarchic version of Hans im Glück: young Flake travels through the sub-cultural landscape of the GDR in the 1980s. The fact that he claims to be anxious does not prevent him from following his intuitions. Almost solo performances at the age of 13 despite his poor mastering of the instrument – why not? Founding a vintage car rental company because of a penchant for vintage cars? Of course! Joining this evil new band, even without liking their music too much at first? Hello Rammstein!
Der Tastenficker Der Tastenficker is not only a funny and disarmingly honest artist biography, but also a tangible contemporary story. A great book!
Excerpt
When I discovered the Rolling Stones, my mother entered the room dancing enthusiastically. She happily explained to me that my Mick Jagger was the same age as her. I wish I had never heard that, because now I think of my parents every time I hear the Stones. I didn't like the Stones as much after that. So I turned to the Dead Kennedys, because they played so fast and so loud. And what can I say? My mother was also very impressed by them and told me that Jello Biafra was a local left-wing politician and she thought he was a great man for that reason alone. So I got fed up with the music.

But the worst thing is when my parents go to a concert. Just knowing that my mother is in the audience paralyses me completely. When I see her jumping to the rhythm of our music, I feel like I've been playing the right boy for years and holding my music back.

No one, I insist, no one would take this book in their hands if I wasn't playing in this band. Coincidence isn't the right word either, I'm involved in a series of misunderstandings. At Feeling B, I was hired as a bass player and in the new band, they were looking for a modern and technically competent keyboard player. So I'm wondering to what extent I can control my life. Sometimes I also think about what I would have become if I had been born in West Berlin or Vietnam. But it's even more exciting to think about what's yet to come in my life. Every day I expect a disaster or a fatal disease. Or am I already insane? Let me think about it. Where are my glasses and why am I sitting here?
Standard edition

Hardcover

Audio book

4 CDs; 4-panel digipack; 8-page booklet

Kosketinrunkkari: Niin kuin sen satun muistamaan
Finnish edition

Hardcover

Klahvkamees: Mida ma mäletan
Estonian edition
Back to top