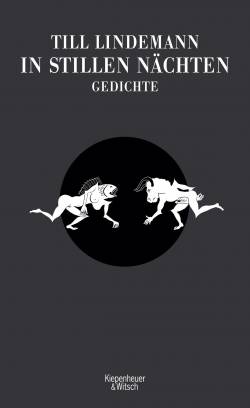 Oct 2, 2013
Author(s)

Till Lindemann

Language(s)

German

Editions

Kiepenheuer & Witsch

Pages

160

ISBN

978-3462045246
More than ten years after Messer, Till Lindemann publishes on October 2, 2013 a collection of poems entitled In stillen Nächten (In quiet nights).
Till is obviously the singer of Rammstein, but it's less known that he already wrote poems before the birth of the band. He has not stopped since, and some poems have even becomen songs. Till offers in this book a selection of his best writing, those who sound like "cold nights scraped into ice." The themes revolve around the abyss of existence, the hunger of desire, the body, the pain, the pleasure, the comic and tragic of communication, the loneliness and the violence.
In stillen Nächten is prefaced by the journalist and writer Alexander Gorkow, who participated in writing the article about the Made In Germany tour in the magazine Süddeutsche Zeitung, and is illustrated in black and white by Matthias Matthies, whose pictures were compiled in a book about the Mutter tour.
Standard edition

Hardcover

E-book

Ciche noce
Polish edition

Hardcover

In stille nachten
Dutch edition

Paperback

On Quiet Nights
English edition

Hardcover or softcover

В тихой ночи
Russian edition

Hardcover

Nas Noites Tranquilas
Portuguese edition

Hardcover or softcover

Stilla nätter
Swedish edition

Hardcover

Nuits silencieuses
French edition

Paperback
Back to top