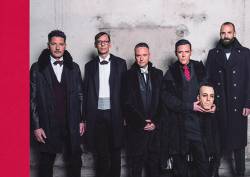 Jul 1, 2022
Photographer(s)

Erik Weiss, Axel Roschlock & Specter Berlin

Language(s)

German

Pages

143

Dimensions

19 x 28 cm
On March 28, 2019, Rammstein made their comeback with the video for Deutschland, directed by Specter Berlin. The reviews were unanimous and the video instantly became a masterpiece, smashing YouTube view records.
The 143-page book shows photos taken by Erik Weiss, Axel Roschlock and the director himself, Specter Berlin, during the shooting in January 2019. Texts written by Specter Berlin and Flake are also present.
The book has not been widely distributed and the easiest way to buy it is on the official Rammstein shop.
Standard edition

Hardcover with precious blind embossing
Back to top