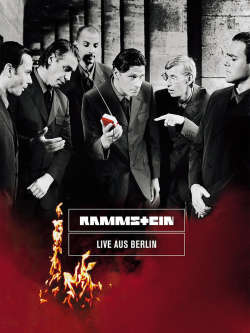 Nov 29, 1999
Concert
1.

Spiel mit mir

6:20

2.

Herzeleid

3:58

3.

Bestrafe mich

3:51

4.

Weißes Fleisch

4:34

5.

Sehnsucht

4:25

6.

Asche zu Asche

3:26

7.

Wilder Wein

5:38

8.

Klavier

4:49

9.

Heirate mich

7:48

10.

Du riechst so gut

5:24

11.

Du hast

4:34

12.

Engel

6:33

13.

Rammstein

5:43

14.

Tier

3:42

15.

Laichzeit

5:15

16.

Wollt ihr das Bett in Flammen sehen?

6:23

17.

Seemann

8:26
Multicam mode
1.

Tier

23:06

2.

Du hast

27:18

3.

Rammstein

33:48
Interview
Interview with snippets of videos (length: about 14:30). Optional subtitles in English, French, and Spanish.
Fan contest – Mac & Windows
The contest consists of 140 questions about Rammstein. The game includes two levels. Finishing the first level provides access to the Stripped video (3:54), finishing the second level provides a link to download a flashcard of Rammstein.
Censored DVD (jewelcase): 11/29/1999

Uncensored DVD (digipack): 03/27/2020

Censored VHS: 09/13/1999

Uncensored VHS (with Bück dich): 09/13/1998
Technical details
DVD
Length: about 91 minutes (97 for the uncensored version with Bück dich)
Rating: -18
Subtitles during the concert: German
Subtitles during the interview: English, French, Spanish
DVD type: DVD-Video 9
Regions: All (no zoning)
Aspect ratio: 16/9
Video system: PAL
Audio: PCM Stereo or 5.1
VHS
Length: about 91 minutes (97 for the uncensored version with Bück dich)
Rating: -16 (-18 for the uncensored version with Bück dich)
Aspect ratio: 16/9
Video system: PAL
Credits and copyright
Show created by Rammstein
Executive producer: Emanuel Fialik
Video director: Hamish Hamilton
Video producer: Ian Stewart
Stage & lighting design: Gert Hof
Music produced by Jacob Hellner with Rammstein
Recorded & mixed by Ronald Prent
Recorded at "Parkbühne Wuhlheide", Berlin on 22 and 23 august 1998
Rammstein on the net:
http://www.rammstein.de - http://www.rammstein.com
DVD project Management by C-one communications / www.c-one.com
DVD interactive concept & premastering by Syrinx music & media
Music & lyrics by Rammstein: Christoph "Doom" Schneider, Doktor Christian Lorenz, Till Lindemann, Paul Landers, Oliver Riedel, Richard Z. Kruspe-Bernstein
Except "Sehnsucht", music by Rammstein / Orgasm Death Gimmicks, lyrics by Rammstein
Except "Tier", music by Rammstein / Jürgen Engler, lyrics by Rammstein
All songs published by Edition Rammstein (GEMA). All rights for the world o/b/o Edition Rammstein controlled by Musik-edition Discoton admin. by BMG songs, Inc. (ASCAP)
End credit music: "Was hast du mit meinem Herz getan ?
Music by Nicholas Lens
Lyrics by Irma Achten
Soprano by Claron McFadden
Courtesy of Sony Music Entertainment (Germany) GmbH
Published by Schott Musik International GmbH & Co.KG, Mainz
DVD cover & booklet: photography by Olaf Heine (frontcover & booklet black &amp white images), Matthias Matthies (inner inlay card), Harald Hauswald (stage booklet), Martin Dettloff (stage inlay card), lights amp; fires photographed by Martin Dettloff, Harald Hauswald, Frank-Lothar Lange, Matthias Matthies
Sleeve design by www.dirkrudolph.de
Back to top