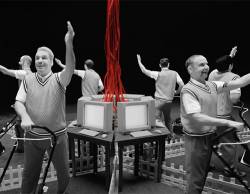 Apr 28, 2022
Director

Robert Gwisdek

Shooting place

Black Box Music, Berlin, Germany

Duration

5:44
Angst is the third video from Rammstein's eighth album, Zeit. Angst premiered at the cinema on April 28, 2022, during the "Zeit - The Atmos Experience" film screening. It then premiered on YouTube the following day at 5pm CET.
Unlike the YouTube version, the cinema version stops just before the end credits.
Angst was directed by German director Robert Gwisdek, who had already directed the video for Zeit.
The video, probably one of Rammstein's most political, is about how the governments make people afraid of each other and of the "black man". While in the song the "black man" refers to a kind of bogeyman from a traditional German game, the video is unambiguous: it simply refers to dark-skinned men.
Promotion
On April 27, 2022, the official trailer was uploaded to Rammstein's official YouTube channel.
Angst

Christoph Schneider
Till Lindemann
Paul Landers
Richard Z. Kruspe
Flake Lorenz
Oliver Riedel

Child
Maya Ngozi

Mother
Yolanda Sylvana Rother

Cheerleader
Oliver Riedel
Louise Adamiec
Elisa Erdmann
Jeannine Kühne
Sonja Sonnenburg
Kathlyn Hoffmann
Celine Bindke Eirime
Sara Bleuel
Eileen Erdmann
Isabel Jahn
Sophia Radke
Laura Sauer Kravec
Anika Wendt

Kreisfilm
Director of photography
Fabian Gamper

Directed & Edited by
Robert Gwisdek

Producer
Marie Höflich

Production manager
Chiara Höflich

Assistant director
Constantin Von Thun

Construction coordinator
Luzius Kloker

Additional score production
Silvan Koch
Janos Mijnssen

Mixed by
Olsen Involtini

Mastered by
Jens Dreesen

Unit production manager
Lucas Milhomem

Unit production assistant
Nelson Algomeda

Production assistant
Amré Ibrahim

CGI
Andreas Nout Schmidt

Additional compositing I
Inhouse VFX Gbr

Additional compositing II
Jan Joost Verhoef

SFX
SFX Department Berlin
Guns & Equipment Gmbh
Mulitool
Christian Döpping
Lorenz Terpe
Leon Höflich

Head of department costumes
Victoria Dietrich

Costume assistant
Simone Fitzner

Head of hair & make-up, SFX make-up
Kati Heimann

2nd make-up & hair dresser
Nicole Förster
Lena Hille

Camera assistant I
Claudia Hector

Camera assistant II
Johannes Plank
Luis Hartmann

Video operator
Paul-micha Sauter

Gripper
Marlon Koppelmann

Gaffer
Maximilian Wallstein

Best boy
Bernhard Haug

Sparks
Timon Dangel
Mahra Özdogan

Lighting operator
Johannes Zink

Props
Marieke Herbst

Set Building
Rudolph Reinstadler

Dancer coordination
Vinzenz Damm
Cheerleader leader/choreographer
Jeannine Kühne

Blackbox Music
Lydia Goos

Covid safety
Stella Kluge

Catering
Margerita Mastrobuono
Nunzia Fiorito
Chiara Balaa
Eleano Fiorito

Rammstein Management
Birgit Fordyce
Stefan Mehnert

Band personal liaisons
Paulo San Martin

Thanks to
Florian Von Bechtolsheim
Hraban Kloker
Paul Kloker
Benjamin Haigel
Back to top