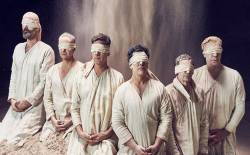 Mar 10, 2022
Director

Robert Gwisdek

Shooting place

Klandorf, Germany

Duration

6:20
Zeit is the first video from Rammstein's eighth album, Zeit. It was released on March 10, 2022 on Youtube at 5:00 pm CET and was directed by German director Robert Gwisdek (also known as Käptn Peng), who had never worked for Rammstein before.
The video was announced on March 8, 2022 on Rammstein's social networks. It served the band as an introduction to their album Zeit.
Zeit is about the passage of time and how death can occur at any stage of life.
Miscellaneous information
On March 9, 2022, the day before the video was released, production company Kreisfilm made a post on Instagram explaining that the cover of the single Zeit, taken from the video, was produced without special effects: By the way, nothing in this image is digitally altered. No Cgi or compositing. Just Olli and a ton of sand. (And no stunt crew) They took it like champs.
In an interview with Chaoszine, Richard said he was injured during the shooting of the video:
I just had a little accident. We were shooting a video. There was this super tank pool slash where you can shoot in water. And I was set to jump in three meters high. Everyone had jumped down to kind of film where we going down under, and I was jumping on my other guitar player's ass. [Laughs.] My foot is destroyed. I can't really walk around with just– so I have to have to be very cautious about my right foot at the moment
Director: Robert Gwisdek
Production Company: Kreisfilm GbR
Young Rammstein: Eric ; Jaro ; Marco ; Nils ; Niko ;Thijn ; Vitus
Daughter: Alma
Mothers: Anne ; Jana ; Karlotta ; Klara ; Leonie ; Marieke
Director of photography: Fabian Gamper
Head of productions: Marie Höflich
Production manager: Chiara Höflich
Assistant director: Constantin von Thun
Construction coordinator: Luzius Kloker
Head of department costumes: Katharina Faltner
Costume assistant: Pauline Claus
Dresser: Carlotta Richter
Additional costume: Ingrid Höflich
Head of department hair & makeup: Kati Heimann
Hair & makeup assistants: Lena Hille ; Nicole Fördter
Hair & makeup assistant (Brussels): Alexander Kinds
Sand carver: Baldrick Buckle
Prosthetics: Rudolf Reinstadler
Baby dummies: Birger Laube ; Twilight Creations ; Movie SFX
Additional score production: Mixed by: Olsen Involtini ; Mastered by: Jens Dreesen
Production assistants: Vinzenz Damm ; Elisabeth Hoschek ; Leonie Buse
Multitools: Christian Döpping ; Paul Kloker ; Lorenz Terpe
Camera assistant I: Claudia Hector
Camera assistant II: David Gork
Video operator: Paul-Micha Sauter
Phantom operator: Martin Bethge
Gripper: Arda Batu Gozalan
Gaffer: Maximilian Wallstein
Best boy: Bernhard Haug
Sparks: Timo Dangel ; Felix Kienzler
SFX: N. G. Bleek - Whitefox
SFX face forms: Katrin Westerhausen
Lites Water Stage & Film Studios and the Lites Water Stage-team
Compositing: Andreas Nout Schmidt
Catering: Madhi Halimi ; Flavio Cafiso ; Fabian Alemany Rubio ; Axel Henke - Ferdinands Hof
COVID safety team: Lucas Milhomem ; Nelson Algomeda
Rammstein management: Birgit Fordyce ; Stefan Mehnert
Band personal liaisons: Paulo San Martin
Thanks to: Lavinia Jennings ; Jens Hoffmann ; Eike ; Ines Schweighöfer ; Ingo Sonnenschein ; Olaf Pieper ; Jürgen Bohm ; Kutschenmuseum Groß Schönebeck ; Josefine Streek ; Gefjon Reichert ; Christine ; Circus Schatzinsel Berlin ; Jürgen Lühmann ; Marko Wolf ; Hoffmann GmbH ; Gierich GmbH ; Licam GmbH
Back to top