Christoph "Doom" Schneider's equipment

Current equipment (live)
Drum kit
Christoph uses a Sonor SQ2 kit with a "Red Tribal" finish created for him.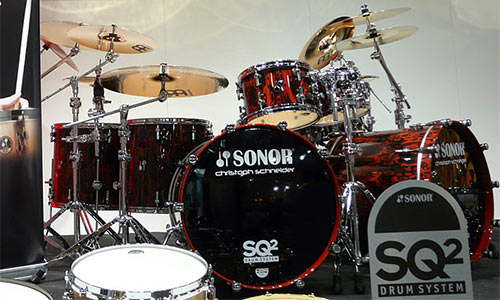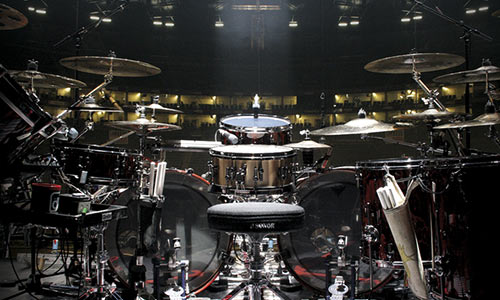 2x 24x19" Bass Drums
14x13" Tom Tom
20x15" Gong Tom
16x15" Floor Tom
18x17" Floor Tom
12x5" Snare Drum avec un 'Heavy Birch shell'
14x6" Snare Artist Series Bell Bronze model
Cymbals
After 12 years of collaboration, Christoph "Doom" Schneider decided in May 2009 to break his contract with Meinl, who provided him his cymbals since September 10, 1997. "Doom" is now equipped with Sabian.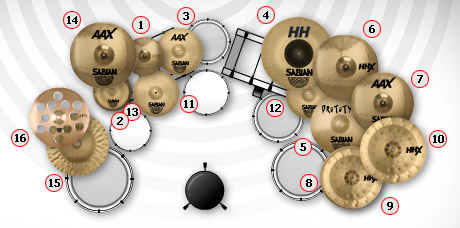 HHX Evolution Splash 12"
HH China Kang Chinese 10"
AAX X-Celerator Hats 14"
HH Power Bell Ride 22"
AAX Prototype Omni Crash 18"
HHX X-Plosion Crash 20"
AAX X-Plosion Crash 19"
HHX X-Treme Crash 19"
HHX Chinese 18"
HHX Chinese 20"
Vault Fierce Hats 14"
AAX X-Celerator Hats 14"
HHX Evolution Splash 12"
AAX X-Plosion Crash 20"
Paragon Chinese 19"
APX O-Zone Crash 18"
Drumheads
Doom uses Remo drumheads.
Drumsticks

Since 2009, Christoph uses Vic Firth sticks with his own custom signature and a Rammstein logo at the base of the sticks.
Used by Christoph since

2009

Length

41,27 cm

Diameter

1,63 cm

Price

approx. 15 dollars the pair
The next two photos are promotional photos taken during the arrival of Christoph at Vic Firth.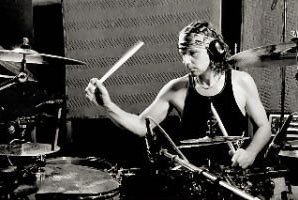 Plate
"Doom" uses a Drumplates CS-Pro as a carrier for the rest of his drum set. The right photo shows Christoph's technician for the Liebe ist für alle da tour, Rossi, on the plate, during rehearsals.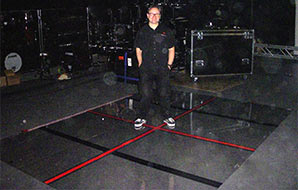 "
Micros
Christoph uses Shure and AKG microphones.
Former equipment
If not specified, the following gear was used during the Reise, Reise tour.
Drumkit
Cymbals
Meinl
14" Soundcaster Custom Medium Hihat
18" Byzance China
16" Byzance Medium Thin Crash
18" Soundcaster Custom Medium Crash
16" Byzance Medium Crash
18" Soundcaster Custom Powerful Crash
22" Soundcaster Custom Mega Bell Ride
14" Soundcaster Custom Powerful Hihat
18" Amun China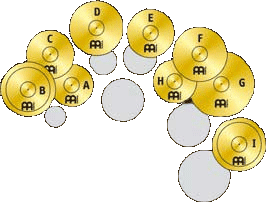 Pedals
Tama Iron Cobra HH905XP
Tama Iron Cobra HP900
Drumheads
Pad
Roland PD-9 (Sehnsucht tour)
Drumsticks
Microphones
Shure Beta 52A
Shure SM57
Shure Beta 58
AKG C 414 XLS/ST
AKG 535EB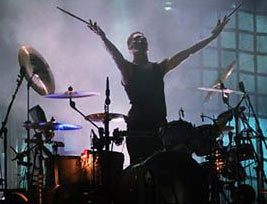 Back to top