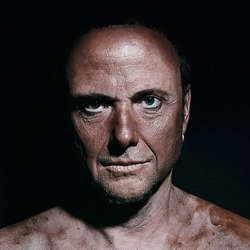 Dec 9, 1964
Role

guitarist

Place of birth

Berlin, Germany

Size

171 cm

Weight

79 kg

Eye color

blue/grey

Hair color

brown

Distinguishing features

pierced ears; tatooes

Usual spot on stage

front left

Former band

Die Firma; Feeling B
Childhood and youth
Heiko Paul Hiersche, also known as Paul Landers, was a premature baby born on December 9 1964, three years after his sister, in Baumschulenweg, Berlin. His father is a German man born in Czechoslovakia who taught Slavish languages. His mother is Polish and taught Russian in College.
As a child, Paul had health problems and had to start a cure at 6. His nurses even nicknamed him "Kundi" (which can be translated into "regular patient"). At school he was a dreamy-looking boy with large rings under his eyes, not very keen on washing, which often led his teachers to tell him off.
When he was 9 his family moved to Moscow where they stayed for one year. It's then that he spent his worst vacation ever, near the Sea of Azov - it used to be part of the USSR, now it is located in the Ukraine. Apart from those holidays, Paul really enjoyed his life in the USSR, even considered Moscow as his home for a little while, and still likes Russia very much.
Around 12 or 13 Paul was encouraged to learn the piano like his sister and his parents sent him to private lessons. But very early he gave up the piano for the clarinet. He remembers his clarinet teacher very well mainly because he's the man who taught him how to…take a shower! Paul then started to play the guitar without real dedication – his father had a guitar and taught him only one song, Wer kann die Lieder der Freiheit verbieten. Only when Paul was 16, he bought his own Iris e-guitar. Later he learnt the drums by himself and used to practice on Till's.
As a teenager Paul used to listen to Jean-Michel Jarre and Klaus Schulze and even tried to be a fan of the Puhdys mainly because all his friends thought that that band was "making shit" (in the derogatory sense of the term). Nonetheless, Paul also remarked once that he had never been able to be a fan of anybody.
After his parents' divorce (around the late 1970s) Paul stayed at his mother's until his marriage in 1984. When he was 19 he however tried to live with his father but after 14 days of the latter's routine, Paul realised that he could not cope with it and went back to his mother's before moving in his own flat with his wife.
Before Rammstein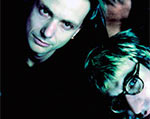 In 1982 Paul met Alexander Kriening, one of the founding members of the punk band Feeling B. Kriening was the drummer of Feeling 14, whose singer was already Aljoscha Rompe. When the band split up Paul joined Kriening and Aljoscha quite reluctantly. They decided to call themselves Feeling Berlin but soon realised that the name was already taken by another band so they shortened it into Feeling B. In April 1983 Paul met Flake Lorenz, whom Kriening had asked to join the band and "play the bass on a keyboard" since Feeling B found it hard to keep a bassist. Through Feeling B, Paul also met Christoph Schneider in 1990, when the latter came over to replace the drummer.
During those Feeling B years, Paul spent a lot of time in Prenzlauer Berg, where they used to rehearse, and started to call himself Paul instead of Heiko, a name he would drop many years later.
While playing for Feeling B, Paul took part in many projects: Keks when he was a teenager; First Arsch, with Till Lindemann, when Richard left East-Berlin; Doom Disaster, an industrial metal band; Tacheles, as a clarinettist; Kashmir, right after Flake left; New Affaire, as a drummer; Die Magdalene Keibel Combo, a side-project he started with Flake. Paul also spent a lot of his time producing other bands.
He was the fifth member to join Rammstein though he was only to be a sound tech. Till actually insisted on having him join the band as a second guitar player in spite of Richard's and Schneider's reluctance – the latter was still pissed off after his last Feeling B show in Ilmenau in 1993.
When Paul was around 18 or 19 years old, he started a one-year apprenticeship in telecommunications. It enabled him to work at Bärensiegel, a spirits distillery where every employee was free to take some Schnaps home. At 19 Paul also worked as a driver for a library in Berlin Treptow.
Characteristics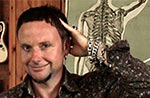 Paul is a man who always looks cheerful though he revealed in 2007 that he is prone to small nervous breakdowns.
He is very talkative during interviews but he is also famous for his unreliability according to some fans.
He never went to the army for his military service though it was obligatory. Even if he received many letters from them, he always managed to have a document proving that he was too ill or that he had an apprenticeship, and when he did not, he simply left no address – with his wife Nikki, he stayed at a flat for which he paid no rent – and when the army finally found the address, he had already moved in at Flake's apartment!
Paul supposedly stopped smoking. He has a piercing to each of his ears and has had tattoos on his left arm and his right shoulder since 2009.
He can speak Russian but can neither read nor write it; he is also able to sing some Russian nursery rhymes.
Private life
Paul was 20 when he married Nikki Landers, whom he had just met at Hiddensee during a festival. There was no ceremony; it was just a way for Paul to emancipate. In Germany, the husband can take his wife's name so Paul dropped Hiersche and decided to call himself Landers since the latter name sounds much better. To him "Paul Landers" is actually a perfect "Rockstar name" and that's the reason why he kept it after he and Nikki split up in 1986. They lived together until 1987 or 1988 then divorced.
With another woman, Yvonne, Paul had a son, Emil, born in the early 1990s.
Paul never got married again. Since 1997 he is in love with Arielle, with whom he had a daughter, Lilli.
The evolution of Paul in concert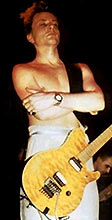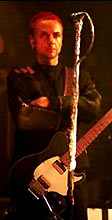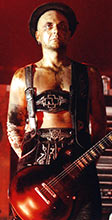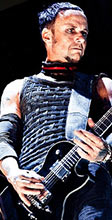 Back to top