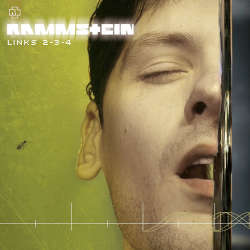 May 14, 2001
1.

Links 2-3-4

3:36

2.

Halleluja

3:45

3.

Links 2-3-4


Clawfinger Geradeaus Remix

4:28

4.

Links 2-3-4


Westbam Technolectro Mix

5:57

5.

Links 2-3-4


Westbam Hard Rock Cafe Bonus Mix

3:43
Music & lyrics by Rammstein: Christoph "Doom" Schneider, Doktor Christian Lorenz, Till Lindemann, Paul Landers, Richard Z. Kruspe, Oliver Riedel

Produced by Jacob Hellner with Rammstein
Mixed by Stefan Glaumann at MVG Studio Stockholm, Sweden
Recorded at Studio Miraval, France
Engineered by Ulf Kruckenberg
Logic & Protools programming by Florian Ammon
Mastered by Howie Weinberg at Masterdisk Corporation, New York
Track 3 mastered by Björn Engelmann at Cutting Room, Stockholm, Sweden
Track 4 & 5 remixed by Westbam and Klaus Jankuhn at Low Spirit Studios, Berlin
Samples "Halleluja" courtesy of Spectrasonics "Symphony of Voices"
Photography by www.daniel-geo-fuchs.com
Sleeve design by Dirk Rudolph and Formgeber
Contact: Pilgrim Management, Postfach 540 101, 10042 Berlin, Germany
Rammstein on the net: http://www.rammstein.de / www.rammstein.com

All songs published by edition Rammstein (GEMA). All rights for the world O/B/O edition Rammstein controlled by musik-edition discoton GmbH (GEMA).
All rights for the US O/B/O musik-edition discoton admin. by BMG songs, Inc. (ASCAP).
Back to top