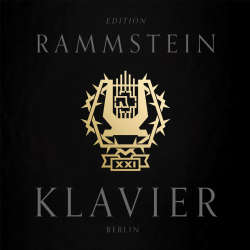 Dec 18, 2015
1.

Frühling in Paris


Piano Version

4:08

2.

Feuer und Wasser


Piano Version

3:52

3.

Nebel


Piano Version

4:34

4.

Sonne


Piano Version

3:53

5.

Klavier


Piano Version

4:03

6.

Wilder Wein


Piano Version

3:31

7.

Ohne dich


Piano Version

4:30

8.

Ein Lied


Piano Version

3:41

9.

Roter Sand


Piano Version

3:16

10.

Engel


Piano Version

4:16

11.

Seemann


Piano Version

4:35

12.

Donaukinder


Piano Version

3:53

13.

Mein Herz brennt


Piano Version

4:31
XXI - Klavier is a digital album featuring 13 Rammstein classics rearranged on the piano by Sven Helbig and Lars Kutschke, and performed by Clemens Pötzsch. Paul Landers is the initiator and producer of the project with Sven Helbig, author of the Mein Herz brennt piano cover in 2012. Rammstein loved this cover, and Paul thought that a whole album of piano covers might be a good idea.

XXI - Klavier was released internationally on December 18, 2015, at the same time as the book version entitled XXI - Notenbuch Klavier. The book was previously released exclusively on Rammstein's official shop on December 4, 2015.
The international release took place on December 18, 2015.
Back to top