Yukon: Mein gehasster Freund
Book Yukon: Mein gehasster Freund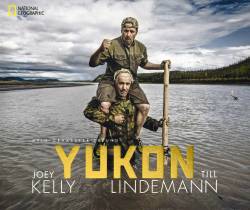 Oct 5, 2017
Author(s)

Till Lindemann ; Joey Kelly

Photographer(s)

Thomas Stachelhaus

Language(s)

German

Editions

NG Buchverlag GmbH & National Geographic

Pages

192

Dimensions

37 x 29 cm

ISBN

978-3866906402
Yukon: Mein gehasster Freund ("Yukon: My Hated Friend"), was co-written by Till Lindemann and Joey Kelly, a former member of The Kelly Familly musician and fan of extreme sports. The book tells the story of the two men's journey to the Yukon, in northwestern Canada, through landscape photos, portraits and texts by Till.
Some texts of the book can be found in other works:
For Christmas 2019, the website DoktorDick.de made it possible to buy the standard edition hand-signed by Till Lindemann.
Editor's presentation
It's not an obvious friendship. The Kelly Family and Rammstein are two things in the world of music that don't go together. But the people behind them are more alike than you might think. Till Lindemann and Joey Kelly, two men of extremes.
If two such friends want to travel together, one thing is certain: an all-inclusive holiday is out of the question. Both follow the "Yukon myth" and take up the challenge. The Yukon and its surrounding landscape - proud and stubborn at the same time, and thus not entirely dissimilar to the two protagonists of the journey in many ways.
Thomas Stachelhaus' grandiose landscape photographs tell of the primeval adventure on a grim, cold river. With unpublished poems by Till Lindemann and an exclusive interview with the two authors.
Official website
Notional Geographic a put a website online to promote the book: Yukon-bildband.de.
Standard edition

Hardcover

Limited box set (500 copies)

Black and gold box set; book with hardcover; hand-signed certificate of authenticity; three hand-signed prints designed by Stefan Heilemann (creator of the artwork of Lindemann's album Skills In Pills)
Back to top