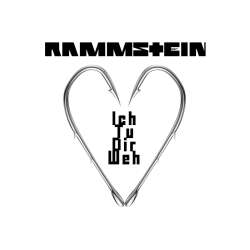 Jan 15, 2010
1.

Ich tu dir weh


Radio Edit

5:02

2.

Pussy


Lick It Remix by Scooter

4:55

3.

Rammlied


Rammin' The Steins Remix by Devin Townsend

5:08

4.

Ich tu dir weh


Smallboy Remix By Jochen Schmalbach

6:41
Music & lyrics by Rammstein : Christoph "Doom" Schneider, Doktor Christian Lorenz, Till Lindemann, Paul Landers, Richard Z. Kruspe, Oliver Riedel
Copyright controlled by Rammstein (GEMA)
Produced by Jacob Hellner with Rammstein
Engineered by Ulf Kruckenberg and Florian Ammon
Mixed by Stefan Glaumann at Toytown Studios, Stockholm
Assistant engineering by Tom Van Heesch
Mastered by Erik Broheden and Henrik Jonsson at Masters of Audio, Stockholm
Recorded at Sonoma Mountain Studio Estate, CA
Assistant engineering by Michael Scully and Scott Church
Drums recorded at Henson Studio B, Los Angeles, CA
Assistant engineering by Nico Essig
Drum technician : Rossi Rossberg
Additional recordings at Studio Engine 55, Berlin and The Big Island Sound, Stockholm
Pussy "Lick it" - remix by Scooter : additional production by Scooter for Sheffield Tunes Communications
Ich tu dir weh "smallboy" remix by Jochen Schmalbach @ Studio Stehende Welle, Berlin
Rammlied "rammin' the steins" remix by Devin Townsend : mastered by Keiron Mcgarry
Ich tu dir weh - F*kkk offf remix : mixed and produced by F*kkk offf
Sleeve design by P.R. brown @ Bau-Da Design
(p) 2010 rammstein GBR © 2010 rammstein GBR. All rights reserved, unauthorized copying, reproduction, hiring, lending, public performance and broadcasting prohibited. Made in the EU. LC 20682.

Rammstein on the net : www.rammstein.com
Management : Emanuel Fialik & Pilgrim Management GmbH.
Back to top