June 11, 2016 concert
Pinkpop Festival, Landgraaf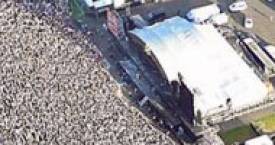 Concert type

Festival

Country

Netherlands

City

Venue

Event

Tour

Capacity

60,000

Heure

10:25pm

Ticket prices

€95
On Zerstören, Till was not wearing the Afghan suit. He went backstage to put on the suicide vest;
At the end of Feuer frei!, Paul's mask malfunctioned. It was fixed by a crew member;
After the first verse of Du riechst so gut, Schneider lost his right stick and had to quickly grab a spare;
During Mein Herz brennt, the burning heart effect did not work;
At the beginning of Ich will, Till said fucky fucky.
Keine Lust and Hallelujah were switched compared to the previous concert;
Ohne dich (Acoustic) was replaced by Amerika;
Sonne was placed in the last position of the setlist.
1.

2.

3.

4.

5.

6.

7.

8.

9.

10.

11.

12.

13.

14.
---
15.

16.

17.
A proshot of 3 songs (Ramm 4, Du riechst so gut and Du hast) was broadcasted by Dutch TV channel NPO3:
* Some German concerts from the years 1994 and 1995 remain unknown or have an imprecise date. Therefore, this number may not be absolutely accurate.
Album
Times played
Mutter
5
expand

Feuer frei! : 1
Ich will : 1
Links 2-3-4 : 1
Mein Herz brennt : 1
Sonne : 1

Reise, Reise
3
expand

Amerika : 1
Keine Lust : 1
Reise, Reise : 1

Autres
3
expand

Halleluja : 1
Ramm 4 : 1
Stripped : 1

Sehnsucht
2
expand
Herzeleid
2
expand

Du riechst so gut : 1
Seemann : 1

Liebe ist für alle da
1
expand
Rosenrot
1
expand
Total
17
Back to top