July 13, 2017 concert
Festival de Nîmes, Nîmes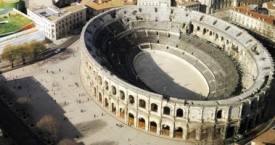 Concert type

Festival

Country

France

City

Venue

Event

Tour

Support band

Capacity

11,200

Heure

9:45 pm

Ticket prices

From €51.00 to €84
Due to wind problems the day before, the technicians decided not to hang the curtain that usually masks the stage, as well as the backdrop curtain. The final preparations and verifications of the stage were made in public view. Just before the countdown that marks the beginning of the concert, the technicians sent smoke to try to hide the installation of the musicians on stage;
At the end of Zerstören, Till removed his Afghan suit sooner than usually;
During the first part of Seemann, Till was wearing the white hat of Ramm-4, as well as a red clown nose. Then he threw the hat in the crowd;
To celebrate the French national day (July 14), Paul yelled "vive la France" before a refrain on Ich tu dir weh;
At the beginning of Ich will, Till said "je veux baiser" ("I want to fuck");
Frühling in Paris was played as a bonus, in a semi-acoustic version. Only Till, Ollie and Flake were present until the last refrain, played by the whole band.
1.

2.

3.

4.

5.

6.

7.

8.

9.

10.

11.

12.

13.

14.
---
15.

16.

17.
---
18.

Frühling in Paris

Half acoustic
* Some German concerts from the years 1994 and 1995 remain unknown or have an imprecise date. Therefore, this number may not be absolutely accurate.
Album
Times played
Mutter
5
expand

Feuer frei! : 1
Ich will : 1
Links 2-3-4 : 1
Mein Herz brennt : 1
Sonne : 1

Reise, Reise
3
expand

Amerika : 1
Keine Lust : 1
Reise, Reise : 1

Autres
3
expand

Halleluja : 1
Ramm 4 : 1
Stripped : 1

Sehnsucht
2
expand
Herzeleid
2
expand

Du riechst so gut : 1
Seemann : 1

Liebe ist für alle da
2
expand

Frühling in Paris : 1
Ich tu dir weh : 1

Rosenrot
1
expand
Total
18
Back to top